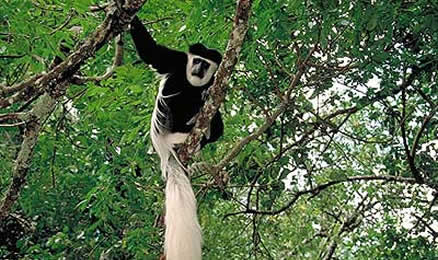 3 DAYS MOUNT MERU CLIMBING
DAY BY DAY ITINERARY
Arrival:
Day 1:
ILBORU SAFARI LODGE/ARUSHA TO MIRIAKAMBA HUT
Transfer from Ilboru Safari Lodge Arusha to the National park Gate in Momella.
After the park formalities the hiking starts through the lush forest.
Beginning at Momella gate, the path is not especially steep, and meanders though a plesant landscape.
In the lower regions we will see elephant, giraffes and herds of cape buffaloes.
The path becomes increasingly steeper, and above 2,000m it enters dense rain forest.
We cross the Ngare-Nanyuki river. Than we reach Miriakamba hut.
Dinner and overnight at Miriakamba Hut (8,400 ft) BLD

---
Day 2:
MIRIAKAMBA HUT TO SADDLE HUT
Leaving Miriakamba hut the path becomes steeper and the landscape more varied. Just before Saddle hut the rain forest gives way to a moorland/bush vegitation. The fauna is more varied and interesting.
The path continues to ascend steeply through the pleasant forest Glades and giant heather up to Saddle Hut.
A pleasant hiking trail leads us from the gap to Little Meru (3,800m). The view is said to be as beautiful as that from big Mt Meru.
Dinner and overnight at Saddle Hut (11,500 ft). BLD

---
Day 3:
SADDLE HUT TO THE MAIN PEAK AND DESCENT TO THE PARK GATE
To ascend the main peak we start out very early.
From Saddle hut a steep ascent in short loops, leads us to the gap between Little and Big Mt Meru, from there we continue to rhino point.
Passing through rock and rubble we reach the main peak (no climbing and easy going).
When the weather is fine we have a fantastic view of Mt Kilimanjaro and of Arusha National park.
The same route leads us back to Miriakamba hut and then to the Momella Gate.
Transfer back to Arusha for overnight Ilboru Safari Lodge BLD

---
Departure:
Departure day: Transfer to Airport or to Arusha B
---
INCLUDED
Airport transfers Kilimanjaro – arrival & departure / all park fees / ranger fees / 4×4 Transport / English speaking driver-guide/ full board =breakfast+lunch+dinner & hotel accommodation days as shown above subject to availability. Flying doctors service
NOT INCLUDED:
All things of a personal nature ie: alcohol / tips-gratuities/laundry,
Souvenirs / airport taxes/Sleeping bags
Tips/ gratuities: the price we have given you does not include tips/ gratuities for the porters, guides, as in the rest of the world, tips are given only when the clients are satisfied with the service they have been given. It is customary however to tip ones guides and porters – guidelines will be given.
Based on the number of participants. Price in UD$ per person. VAT included. Updated on 26.10.22
3 DAY CLIMB

ONE PARTICIPANT

$1,450

TWO PARTICIPANTS

 

$1,150

 THREE PARTICIPANTS

$1,070

FOUR PARTICIPANTS

$1,000

FIVE PARTICIPANTS

$980

SIX PARTICIPANTS

$960

 
4 DAY CLIMB

ONE PARTICIPANT

$1,625

TWO PARTICIPANTS

 

$1,420

 THREE PARTICIPANTS

$1,275

FOUR PARTICIPANTS

$1,220

FIVE PARTICIPANTS

$1,175

SIX PARTICIPANTS

$1,135

 CLICK MAP BELOW TO EXPAND