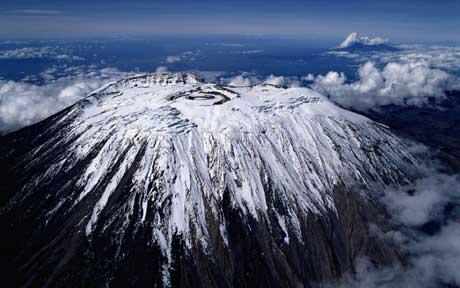 THINGS TO BRING FOR THE CLIMB
The equipment list is meant to help you compile your personal kit. You'll notice that the gear is essentially the same as that required for a summer climb of Rainier without the inclusion of any technical climbing gear. Most items are required, while a few are optional.
Travel Items
>> Duffel Bags: Two duffel bags with name tags. One of the duffle bags goes on the climb with you and will be carried by the porters. Expect for it to get wet and muddy, so a rugged, waterproof duffle is good. You will store the other bag at the hotel with your clothes for travel and safari so it does not need to be as robust. Bags with wheels are nice for the airport, but the porters don't like to carry them, so don't bring two wheeled bags.
>> Daypack: Large daypack or bag with a shoulder strap, so you don't have to set it down while doing the duffle shuffle or handling travel documents while going through passport control and customs at the airport. It needs to be big enough to hold everything you'll need for an overnight stop.
>> Travel Wallet: A secure travel wallet is a must for carrying your important documents including passport, extra photos, and money. We suggest that you use a travel wallet that you can hang around your neck and place inside your shirt, or around your waist tucked under your shirt or trousers.
>> Passport: Carry a photocopy of the first two pages and an extra photo in a separate location. Send copies of all important documents to your own e-mail address, to be able to retrieve at any time any where.
Trekking Gear
>> Trekking Poles: Poles come in handy for balance and easing impact to your knees. Get collapsible poles that can attach to your backpack.
>> Backpack: You need a pack big enough for your clothes, water, camera, food, etc during the day. Packs should be in the 50 litre / 3000 cu in range. Not too big, not too small.
>> Pack Cover: Waterproof rain cover for your pack.
>> Sleeping Bag: Rated to minus 15 degrees Celsius .
>> Sleeping Pad: (chose either a self-inflating or closed-cell foam pad)
>> Tip: Bring 5 large plastic rubbish bags to pack gear inside duffels to protect gear from rain.
Clothing
>> Base Layer: 2 pair synthetic long johns: one mid-weight set and one expedition weight set.
>> Mid Layers: One additional warm layer (wool sweater, another fleece jacket, shelled vest, etc, that can be worn in conjunction to the other layers).
>> Warm Pants: Look for construction that provides freedom of movement and/or stretch materials. Fleece is good. Wear over long-johns with shell on top for cold weather.
>> Shell Jacket: Waterproof/breathable jacket with hood.
>> Shell Pants: Waterproof/breathable pants (full side zips are best).
>> Parka: REQUIRED (it gets VERY COLD on summit morning!). Down or synthetic. This should be big enough to go over other garments.
>> Rain Poncho.
>> Hiking Clothes: Light hiking trousers and / or hiking shorts – NOT cotton. Shirts for hiking on nice days (t-shirts OK, quick-drying synthetic fabric far better.)
>> Casual Clothes: For travel/safari/meals in dining rooms. You'll want a shirt or two with a collar to wear on flights and in the lodges. A sweatshirt or light jacket might be nice in the evening.
>> Swimming trunks/suit Some of the hotels have pools.
>> Clothing Accessories
>> Gloves and Mittens: Light gloves for hiking and around camp, warm ski gloves or similar, and down or warm insulated mittens for summit day.
>> Hats: Balaclava best – Warm wool or heavy fleece hat, sun hat and bandana.
Footwear
>> Lightweight Shoes: Running/tennis shoes for camp, around town, safari, etc.
>> Hiking Boots: Medium-weight hiking boots, waterproofed and broken-in.
>> Gaiters: To keep snow, mud, and scree out of your hiking boots.
>> Socks: 3 complete changes of socks, Make sure your boots are roomy enough for the sock you intend to use. Tight boots will make your feet cold.
>>Camp Accessories
>> Headlamp with extra batteries.
>> Water Bottles: 2 water bottles with foam insulation shells (or camel pack ).
>> Water Treatment: Iodine tablets (Potable Aqua or similar), iodine crystals, for water purification.
>> Camera: With spare batteries, and film or memory cards.
>>Personal Accessories
>> Wrist Watch: With alarm.
>> Eyewear: Bring good sunglasses. For contact lens wearers, ski goggles with light colour lenses (for use at night) might be useful in windy conditions that cause dust.
>> Vision correction: Bring extra prescription eyeglasses or contact lenses if you wear them. Lens solutions are not widely available in Africa.
>> Skin Care: Maximum SPF sunscreen and lip balm.
>> First Aid: Hand sanitizer , moleskin, tape, aspirin / ibuprofen / acetaminophen, Imodium for diarrhea, Band-Aids, small towel, antacid, insect repellent, ear plugs, and several rolls of toilet paper.
>> Prescription Medications:
1. Antibiotic such as Ciprofloxacin and/or Zithromax Z-Pak
2. Diamox for acclimatization, 125mg tabs recommended, enough for one week
3. Malaria phrophylaxis (we suggest Malarone, one tablet a day starting two days before the trip and going until one week after the trip)
>> Personal Snack Food: You should bring some extra snacks for the climb, especially for summit day, and some drink mixes if you like these to add to your water bottle
Tips: for those carry on to other destinations who do not wish to carry such warm clothing, buy second hand and give them to your porters after the climb
Tips are a important part of the guides & porters income, here a rough guideline of what will be expected.
Main guide. Circa $15 per day
Assistant guide: circa $10
Porters: Circa $8 per day
Cook : $10.per day
These are rough guidelines and should be from the group per day not per person