5 Days Luxury Lodge Safari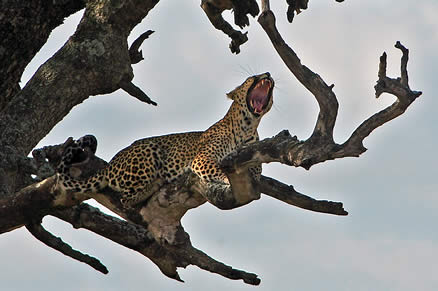 OTHER SAFARIS FROM BASE CAMP TANZANIA
5 DAYS LUXURY LODGE SAFARI
DAY BY DAY ITINERARY
Arrival
Arrive at Kilimanjaro International Airport – Collection via Base Camp and transfer to the CAT#1 Ilboru Safari Lodge CAT#2 African Tulip hotel CAT#3 Serena lodge D
---
Day 1:
OPTION #1
Leaving Arusha we drive circa 120 km on tarmac and circa 4 km on piste arriving at our first park – Tarangire National Park – We take you on your first Game Drive arriving back just before dusk to  overnight in luxury tents, self contained/shower etc., situated on the slopes overlooking the Tarangire river, a permanent water source, enabling you to enjoy the sight of the  wildlife coming to drink. CAT#1  Tarangire Safari Lodge  CAT#2 Sopa Lodge OR CAT#3 Tarangire-river-camp- BLD
OPTION #2 
We continue our safari to Lake Manyara National Park. We shall Game Drive in this spectacular park at the base of the western wall of the Great Rift Valley before retiring to our hotel on the rim of the Rift Valley. Overnight CAT#1 Hotels & Lodge's  CAT#2 Kirurumu Tented Camp CAT#3  Serena -Lake Manyara BLD
---
Day 2:
AM Cultural Village Tour,  We drive to and enter the world famous Serengeti National Park. Game Driving from the entrance gate to your hotel in this the probably most famous of all National Parks in the world!• Overnight in CAT#1 Hotels & Lodge's   CAT#2 Sopa Serengeti   CAT#3 Serena Serengeti  BLD.
---
Day 3:
A full day, dawn to dusk Game Driving in the Serengeti National Park. Today we have over 14,000 km in which explore the ever changing flora and fauna, in this park made famous in the Film "Serengeti shall not die" by Dr. Bernhard Grzimek. You too shall never forget the splendor of the rolling Savannah and open plains, home to the most spectacular migration on our planet! Overnight in CAT#1 Hotels & Lodge's CAT#2 Sopa Serengeti  CAT#3  Serena Serengeti OPTION OF BALLOON SAFARI www.balloonsafaris.com BLD
---
Day 4:
Our last game drive in Serengeti National Park taking in some of the "Kopjes / Inselbergen" granite outcrops in which many predators love to sit and look out over the plains for their prey. Lunch is a packed lunch. En-Route to Ngorongoro Crater: Overnight. CAT#1  Hotels & Lodge's  CAT#2 Sopa Lodge  CAT#3  Serena Ngorongoro  BLD
---
Day 5:
Ngorongoro Crater – a World Heritage Site – where we spend the maximum of six hours allowed game driving! Down inside the Worlds Largest Perfect Caldera (collapsed volcano) with a permanent residence of circa 30,000 animals. Ngorongoro Crater is a breathtakingly exciting place to see the only remaining Black Rhinos in East Africa. Late afternoon exit  & return to Arusha  Overnight Ilboru Safari Lodge BLD
---
Day 6:
Departure Day: Transfer to Kilimanjaro International Airport for those returning home. For those taking one of our Zanzibar or Mount Kilimanjaro  / Mount Meru extensions, collection/transfer as described in tour description B
---
OPTION OF MASAI VILLAGE $50 PER VEHICLE PAID DIRECT TO VILLAGE.
OPTION OF SERENGETI BALLOON SAFARI $600  PP
OPTION OF NIGHT GAME DRIVE TARANGIRE CIRCA 2 HOURS $99 PP
OPTION OF BUSH WALK TARANGIRE CIRCA 2 HOURS $60 PP
INCLUDED
Airport transfers Kilimanjaro – arrival & departure / all park fees / ranger fees / 4×4 Transport / English speaking driver-guide/ full board =breakfast+lunch+dinner & hotel accommodation days as shown above subject to availability. Flying doctors service
NOT INCLUDED:
All things of a personal nature ie: alcohol / tips-gratuities/laundry,
Souvenirs / airport tax'es/
Based on the number of participants. Price in UD$ per person. VAT included. Updated on 28.11.22
| CATEGORY#1 | |
| --- | --- |
| ONE PARTICIPANT | $3,940 |
| TWO PARTICIPANTS  | $2,725 |
| THREE PARTICIPANTS   | $2,410 |
| FOUR PARTICIPANTS   | $2,245 |
| FIVE PARTICIPANTS  |  $2,150 |
| SIX PARTICIPANTS   | $2,085 |
| SEVEN PARTICIPANTS  | $2,035 |
|  SINGLE ROOM SUPPLEMENT  | $270 |
| CATEGORY#2 | |
| --- | --- |
| ONE PARTICIPANT   | $4,095 |
| TWO PARTICIPANTS  | $2,875 |
| THREE PARTICIPANTS   | $2,560 |
| FOUR PARTICIPANTS  | $2,385 |
| FIVE PARTICIPANTS   | $2,290 |
| SIX PARTICIPANTS   | $2,225 |
| SEVEN PARTICIPANTS   | $2,175 |
|  SINGLE ROOM SUPPLEMENT  | $380 |
| CATEGORY#3 | |
| --- | --- |
| ONE PARTICIPANT  | $4,260 |
| TWO PARTICIPANTS  | $2,955 |
| THREE PARTICIPANTS  | $2,525 |
| FOUR PARTICIPANTS  | $2,470 |
| FIVE PARTICIPANTS  | $2,385 |
| SIX PARTICIPANTS  | $2,315 |
| SEVEN PARTICIPANTS  | $2,265 |
|  SINGLE ROOM SUPPLEMENT  | $430 |